FOREX SIGNALS INDICATOR
What is ​​Forex Indicator 3D Signals
Forex Indicator 3D Signals - Forex Signals New Generation! New advanced premium quality 3D-Forex Signals Indicator. The Forex Indicator is based on Neural Networks analyzes market in 3D-dimensions and generates statistically reliable and accurate forex trading signals in real time. Time series data and technical indicators, are fed to neural nets to capture the underlying rules of the movement in currency exchange rates. Signals are intuitive, easy to use and most of all, have maintained an outstanding winning rate. No need for any specific knowledge about Neural Networks to use Forex Prediction Indicator. For professional traders and newbies.

The Forex Indicator 3D Signals can help you analyze the price dynamics of foreign currencies in the face of market uncertainty, as well as form the basis of a trading strategy. Also, this indicator can help realize the benefits of an existing trading strategy by supplementing it.
The indicator will be useful for active traders trading foreign currencies both intraday and between days.
Why we recommend choosing ​​Forex Indicator 3D Signals
The Forex Signals Indicator is based on a system of filtering and clarifying signals, as well as an algorithm for forecasting price movements and forex trends, which makes our Forex indicator a necessary tool-program for a trader who is determined to win trading in the Forex market.


Forex Signals Indicator.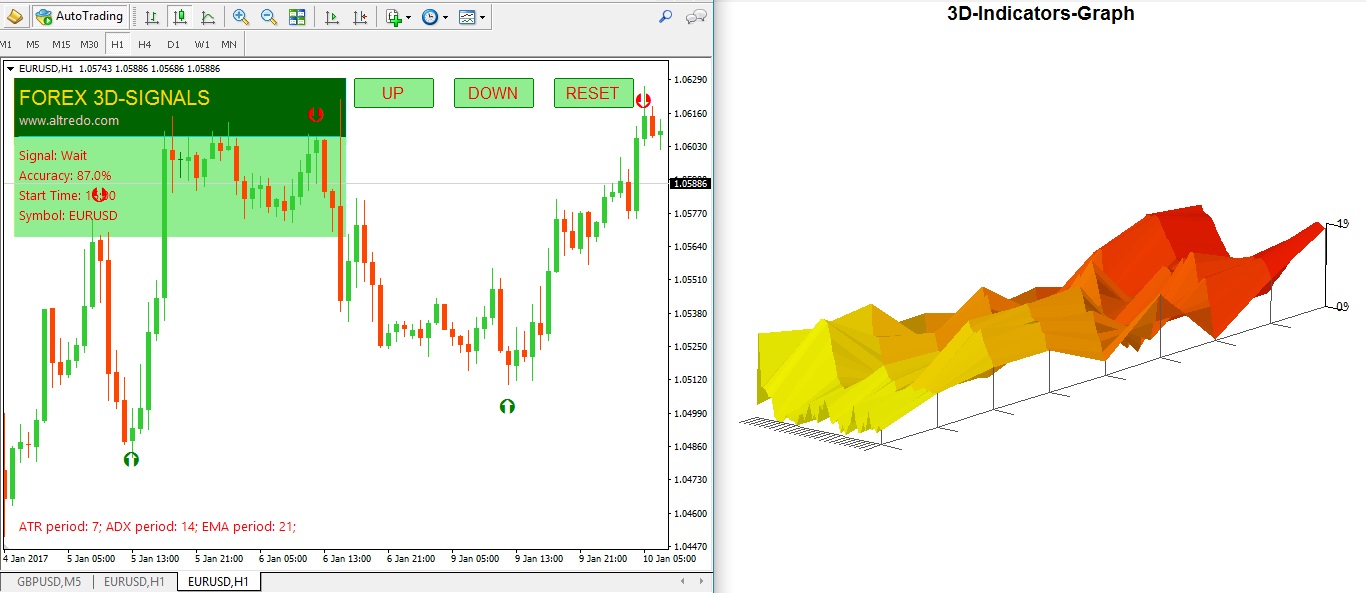 Forex Signals Indicator.
These are exactly the trades that you will see on your charts. These arrows will never be repainted. Exclusive to Metatrader 4, the forex signals indicator will draw arrows right after the start of the candle, and those arrows will always stay there. No movement of the arrows, no disappearance.
Forex Prediction Indicator 3D Signals based on artificial intelligence algorithms, automatically scans market data in real time (quotes, main indicators data, market indices, etc.), learns from new fresh data, takes into account historical data and generates a buy, sell arrow real-time signals without delays and redraws.
The Forex Prediction Indicator works for any broker (MT4 platform).
Forex Signals Indicator supports all currency pairs include: EURUSD, USDCHF, GBPUSD, XAUUSD (Gold), XAGUSD (Silver), USDJPY, EURJPY, EURAUD, CADJPY, NZDUSD, AUDNZD, AUDJPY, NZDJPY, GBPJPY, USDCAD, AUDUSD, EURGBP, EURCHF, GBPCHF, GBPAUD, EURCAD, CHFJPY, AUDCAD, EURNZD, NZDCHF, NZDCAD, AUDCHF, GBPCAD, CADCHF, GBPNZD, all on the M1 M5, M15, M30, H1, H4, D1, W1 timeframes.

Download version. After payment is made you will get download link. Free technical support via Email, Skype and Teamviewer.
$360
BUYNOW