Bitcoin Bot Superior Trend
Automatic trading robot Bitcoin Bot Superior Trend is a new solution for profitable trading! The sole purpose of the Bitcoin Bot Superior Trend trading robot is to generate as much as possible more profit for the user trader. Cryptobot Bitcoin Bot Superior Trend is a computer program, strategy (algorithm), which monitors changes in the market situation in real time, predicts the direction of price movement, opening or closing positions in digital assets. Bitcoin Bot acts on the basis of identifying pre-installed complex patterns, a profitable trading strategy.
Our trading cryptobot trades all liquid trading pairs, including Cryptocurrency such as BTC / USDT, BTC / ETH, BTC / EOS, ETH / USDT, etc.
A crypto trading bot outperforms even a talented trader in trading efficiency it is difficult to quickly calculate the effectiveness of a particular transaction. The Bitcoin Bot Superior Trend robot trades Cryptocurrency fully automatically, which improves the efficiency of trading.
Cryptocurrency trading is a stable source of income with competent trading.
Designed for trading on the MT5 platform.

Benefits of Trading Cryptobot
🆗 Bitcoin Bot Contains a financial protection algorithm that makes trading with our robot as much as possible safe and minimizes possible drawdowns.
🆗 Easy to install.
🆗 Cryptocurrency are the future! And it has already arrived.
🆗 Bitcoin is traded around the clock: 24 hours a day, 7 days a week, 365 days a year.
🆗 A cryptocurrency trading bot in 2021 is just a must-have for any modern trader.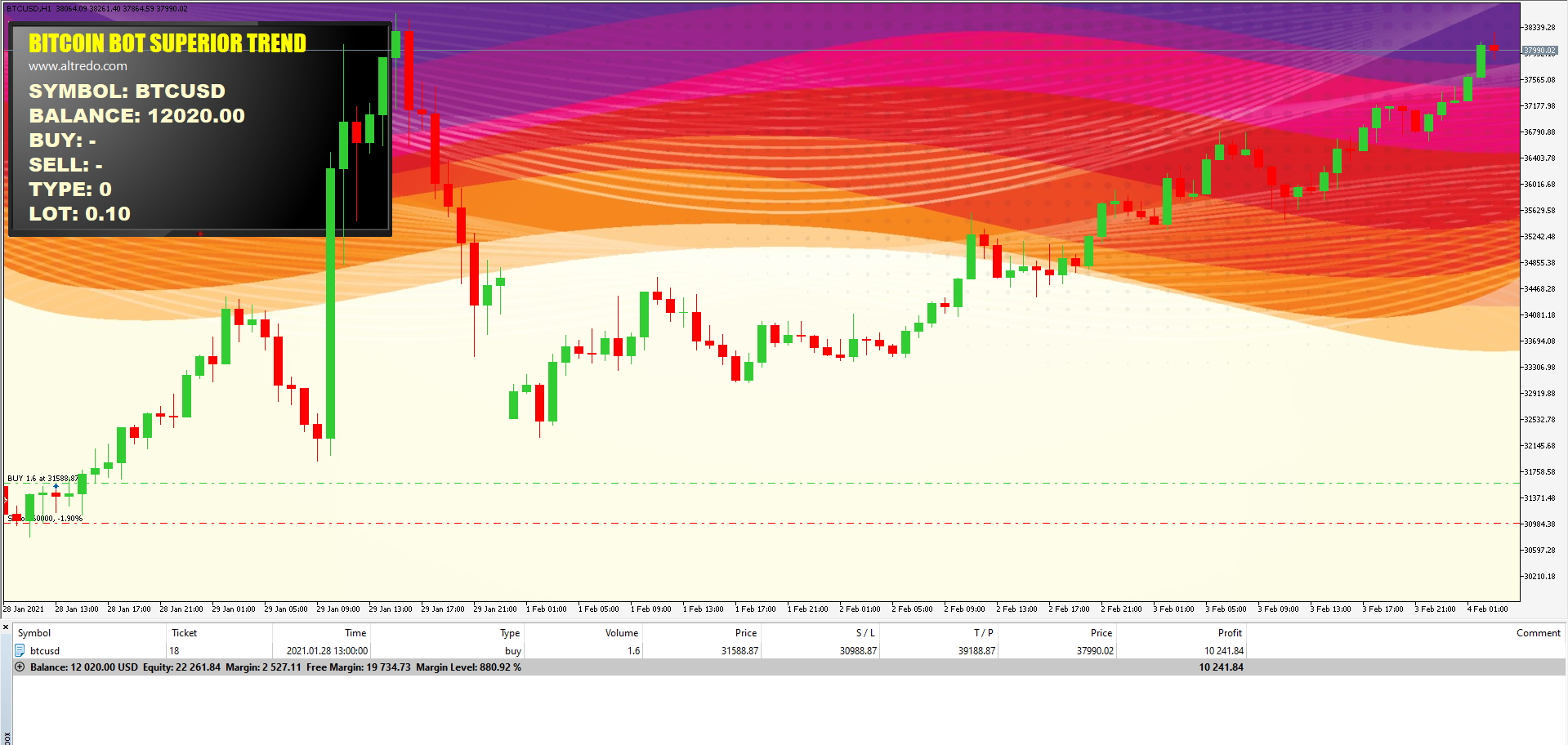 Download version. After payment is made you will get download link. Free technical support via Email, Skype and Teamviewer.
$550