Crypto Trading Strategy For Trading on Binance and Coinbase Platforms
A trading strategy for trading cryptocurrency on the Binance and Coinbase platforms. The strategy is fully optimized during testing and has shown high efficiency, profitability of about 400% per year, which is an excellent result.

Crypto Trading Strategy For Winning Trades
The crypto trading strategy also has the properties of an indicator and shows signals for profitable entries in the form of visual arrows and inscriptions on the cryptocurrency chart, and also has a convenient display that shows the last signal, its direction (buy or sell, long or short), as well as the time of occurrence signal.
The trading strategy runs on the NinjaTrader platform and generates trading signals in real time without delays or repainting.
Our cryptocurrency trading strategy is developed by a group of professionals and thoroughly tested and has proven to be effective and excellent results.
The Main Features of the Strategy for Trading Cryptocurrency
✅ 400% profit,
✅ 7%-10% average drawdown,
✅ Optimized for trading Ethereum cryptocurrency (ETHUSD),
✅ Has capital protection against losses in the form of a stop-loss,
✅ Has a built-in take-profit,
✅ No Martingale,
✅ Detects long-term and short-term trends,
✅ Works stable accurate during flat market and during trend market and during major news,
✅ Real-time signals,
✅ It can be used to trade Cryptocurrency on the Coinbase and Binance exchanges. And also for trading cryptocurrency on any other trading platforms,
✅ For professional traders and newbies.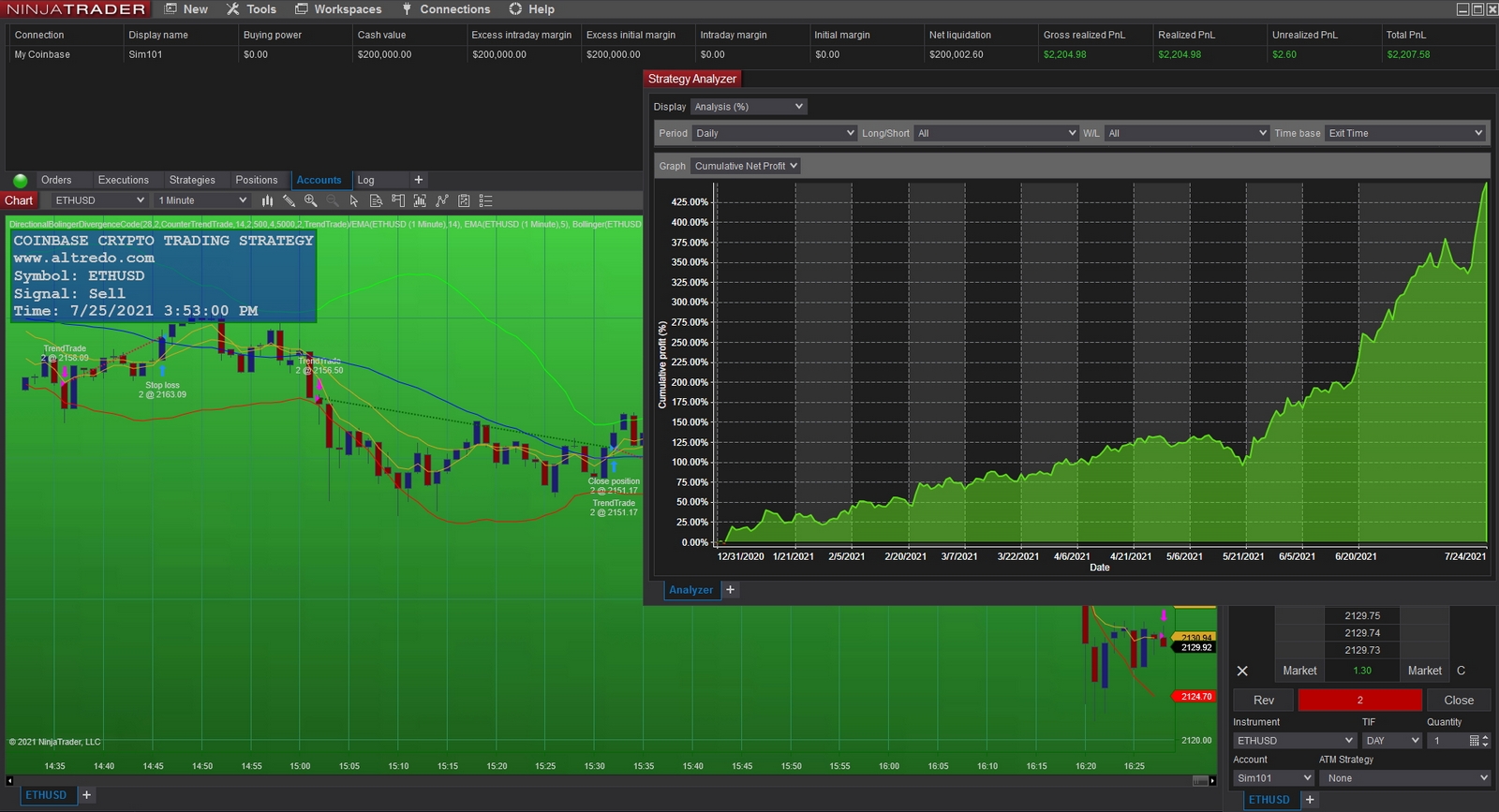 Download version. After payment is made you will get download link. Free technical support via Email, Skype and Teamviewer.
$550